Middle School Soccer Announcement: Coach Benny Veenhof will be facilitating some soccer activities and soccer scrimmages, on the Center Drive School soccer field, on Tuesday 8/16, Thursday 8/18, and Tuesday 8/23 from 4:30-6:00 (or a little alter if everyone wants to keep going). This is open to any student entering 5th -8th grade, even if you have not played on the soccer team before. For more information, you can contact Coach Veenhof at
dutchsoccr@gmail.com
.

Open House will be Monday, August 29 from 6:00-7:00 pm. We cannot wait to see you there!


The CDS Girls Soccer are invited to go watch the UMaine women's soccer team play versus Merrimack on August 25th at 7 PM. All Lady Eagles from last year as well as those that plan to try out for the team this year are invited. Spread the word! If you're interested please comment here or email Coach Veenhof at
dutchsoccr@gmail.com
Hope to get a good crew together to watch this game.

Good Morning! Work will be beginning soon on the Outdoor Education's challenge course. Mr. Maxwell is looking for volunteers to help with this. Any high school students out there needing community volunteer hours, this would be a great opportunity! Here are the dates that help is needed: Orrington August 1- Cutting and prepping before skidder arrives (Volunteer help with chainsaws and moving brush) August 14 and 16- Volunteer help to clear leaves, spread gravel/wood chips and build elements. If you are able to give a couple of hours it would be appreciated. The course will be located in the woods behind the soccer field, just head out back!

I guess we aren't the only ones who think Mr. Mugnai is the best! Here he is being presented with Orrington's Citizen of the Year 2022!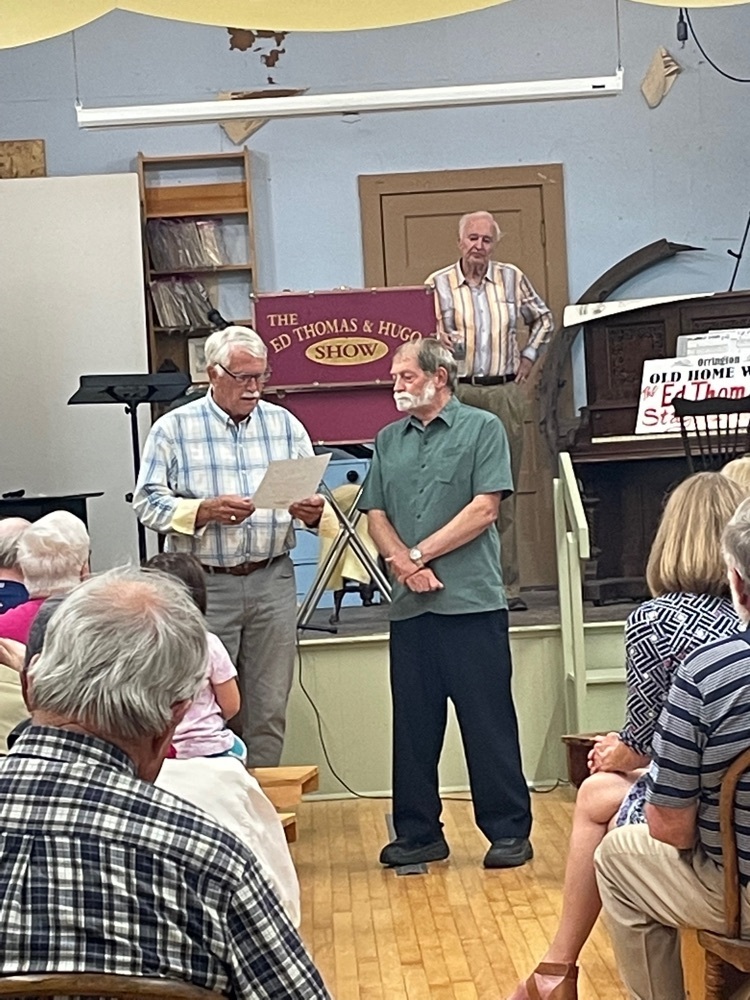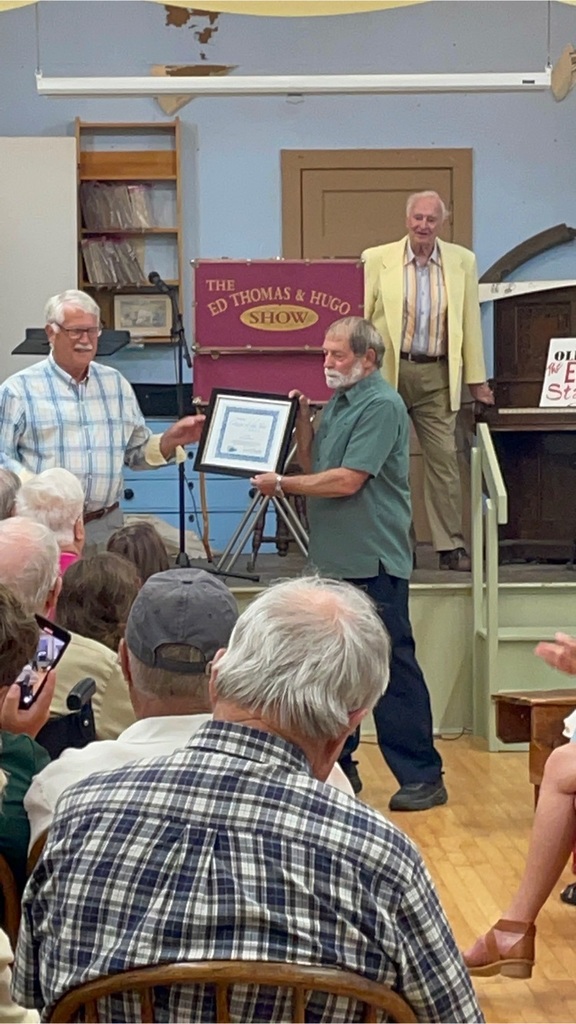 In case you didn't hear about this at the last school committee meeting….something special happened! Please excuse the mess! Work in progress at CDS.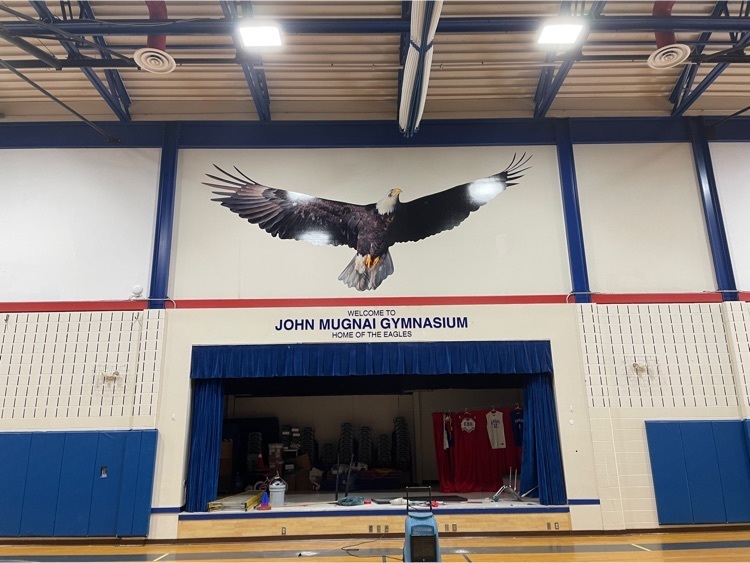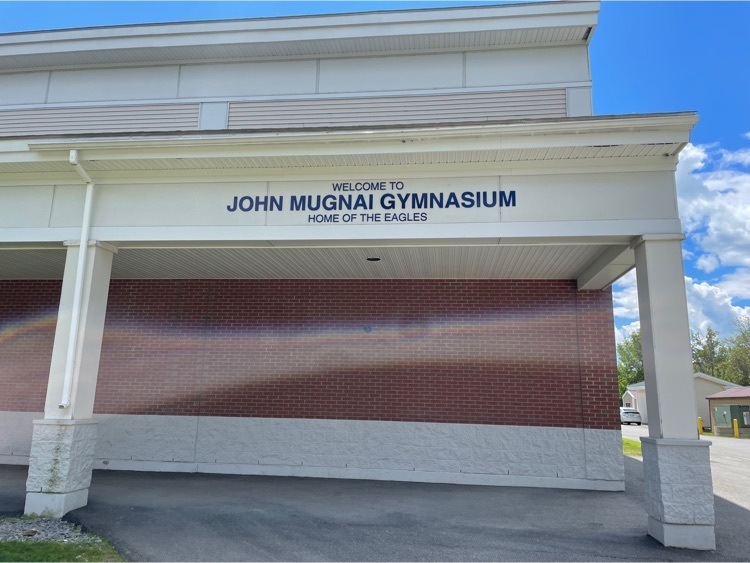 Wow! What a year it has been! Thank you for allowing us the pleasure of teaching your kiddos every day. Just a reminder, tomorrow will be our last day of school and we have a 12:00 dismissal. Please don't be alarmed if the buses are a little late....we will be doing our traditional bus send off in bus circle!

We are very excited to announce a new opportunity for our middle school students in the fall. At the approval of our school committees, due to the shortage of world language teachers we have eliminated world language from our curriculum and have replaced it with an Outdoor Education program. This will be a shared position between Orrington and Dedham, taught by Mr. Gil Maxwell. More information will be shared in the fall, but be looking for volunteer opportunities throughout the summer as new outdoor structures are created on our campuses. If you are interested in volunteering throughout the summer, please reach out to Mr. Maxwell at
g.maxwell@cdsedu.org

At the request of Mr. Mugnai: "Thank you to all staff, parents, and students who shared their "well wishes", cards, gifts, and stories with me during the time of my retirement. I saw many families at recent school concerts, ball games, and my retirement celebration. I have been so blessed to have all my 50 years' worth of memories in Orrington. I had hoped to spend my time thanking you personally for allowing me to know you and your family just by working as a teacher and Assistant Principal with the students. I will truly miss the many interactions we have shared at various school events such as, parent conferences, ball games, PTG functions, and Open House. I mostly, will miss the students who are inspiring to work with, talented, exploring new concepts, growing in social skills, and exciting to watch as they grow into young adults. Again, thank you for all of your support. I couldn't have done it without you. John Mugnai"

I am so proud of these girls! Congratulations on winning the championship.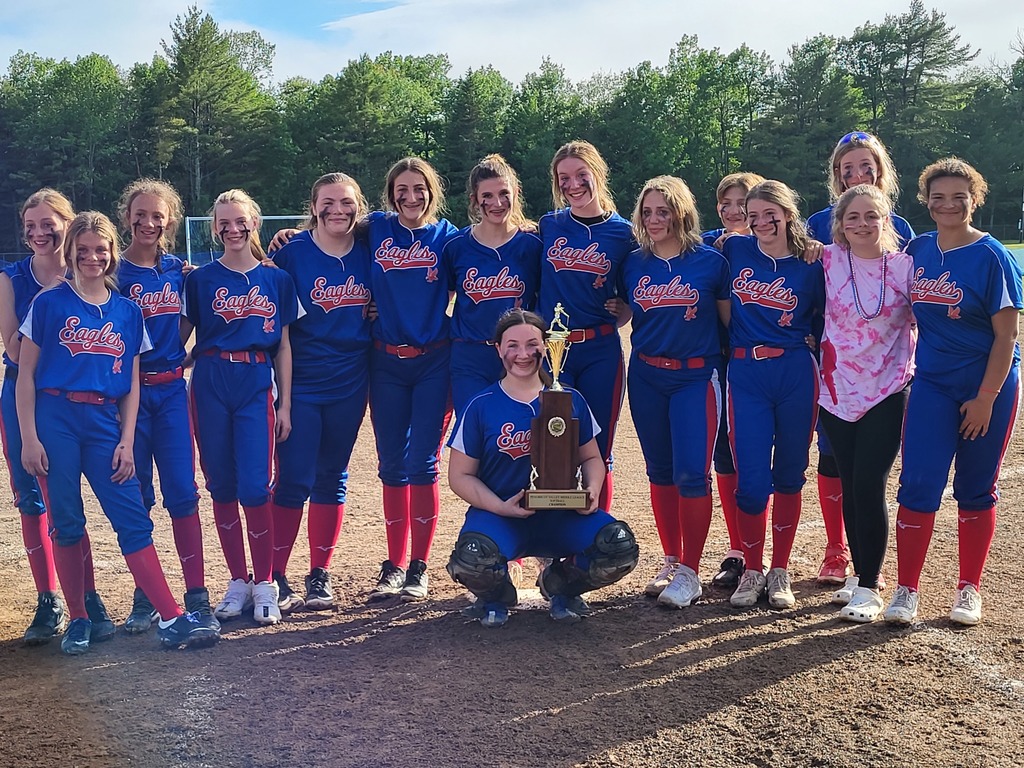 The baseball game scheduled for tomorrow has been rescheduled for Tuesday, June 14th.

Baseball practice has been canceled today.

Please join us Friday, June 10th for a benefit supper for our former custodian and friend, Mr. Rich Elliott, as he battles cancer.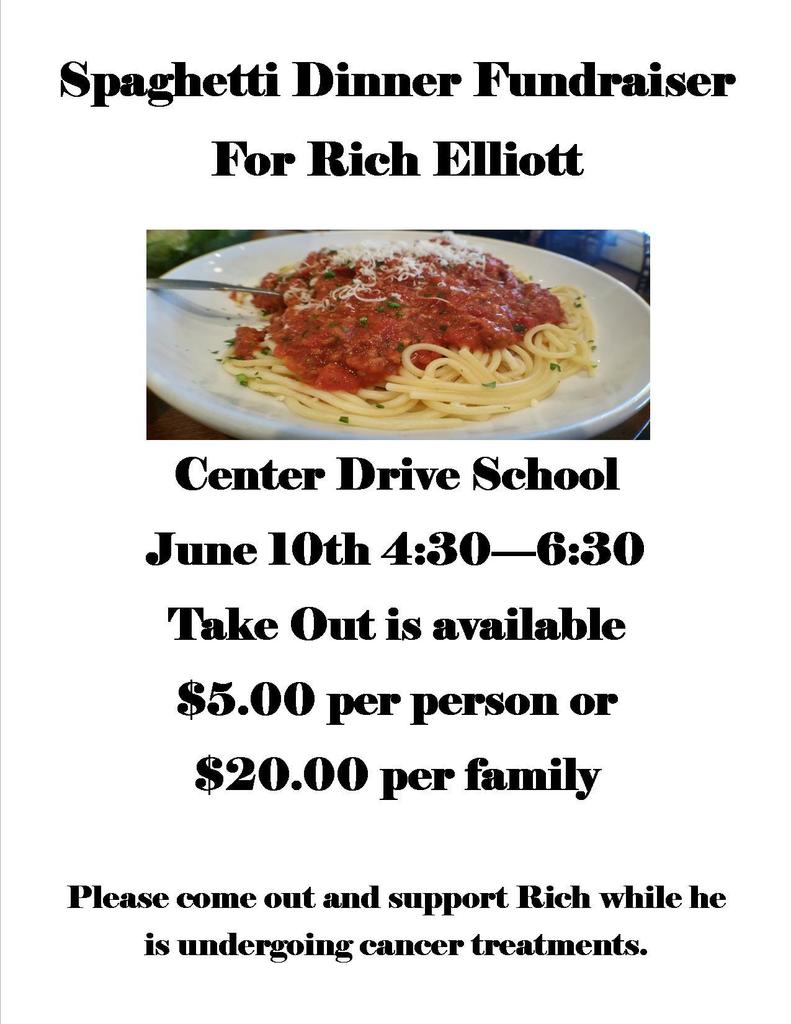 Baseball/Softball Updates: Softball will play in Orrington on Monday @ 3:30 Baseball will play in Orrington on Tuesday @ 3:30

Good Morning! We are hoping to see lots of our parents and students, past and present, at tomorrow's Retirement Open House!!!! Come wish our legend well as he begins his new journey.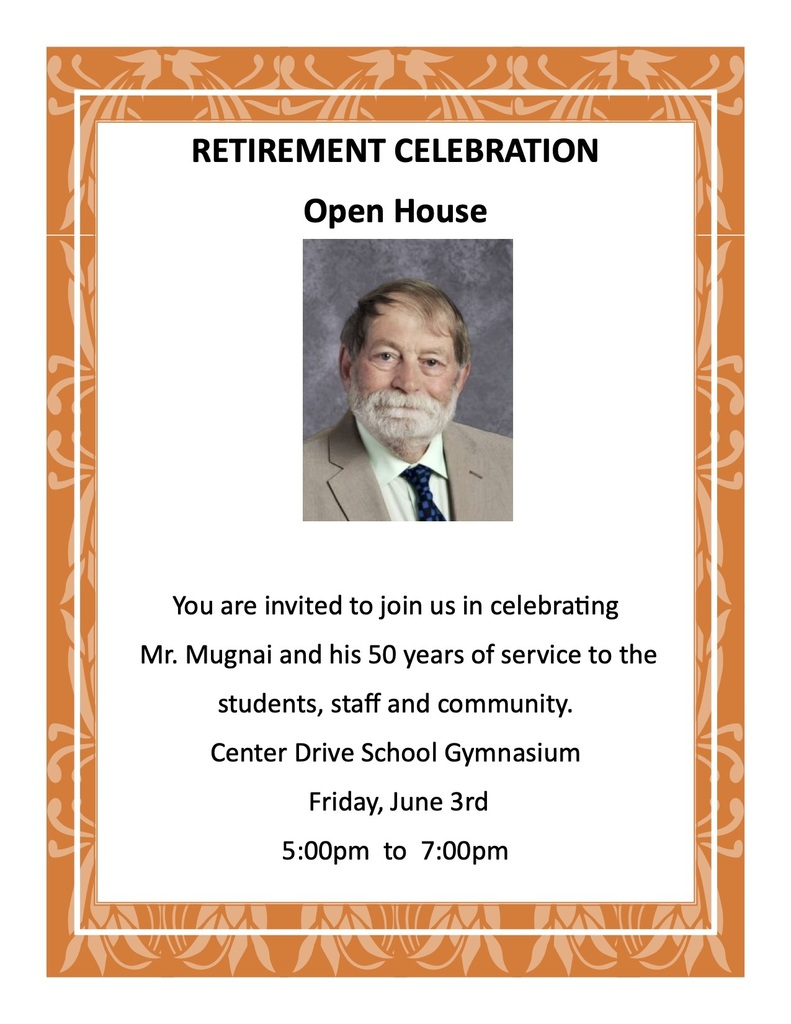 Things are getting busy at Center Drive! We try to update our events section of the website and our school sign diligently, so please keep checking. Wednesday: Baseball/Softball games at Orono Wednesday: Grades 4-8 Band/Chorus concert at 6:30 Thursday: Pre K informational night in the cafeteria at 6:00 Friday: Retirement Party for Mr. Mugnai at 5:00

The time has come for us to honor the legend as he retires! Please join us at an Open House to wish Mr. Mugnai well on his retirement.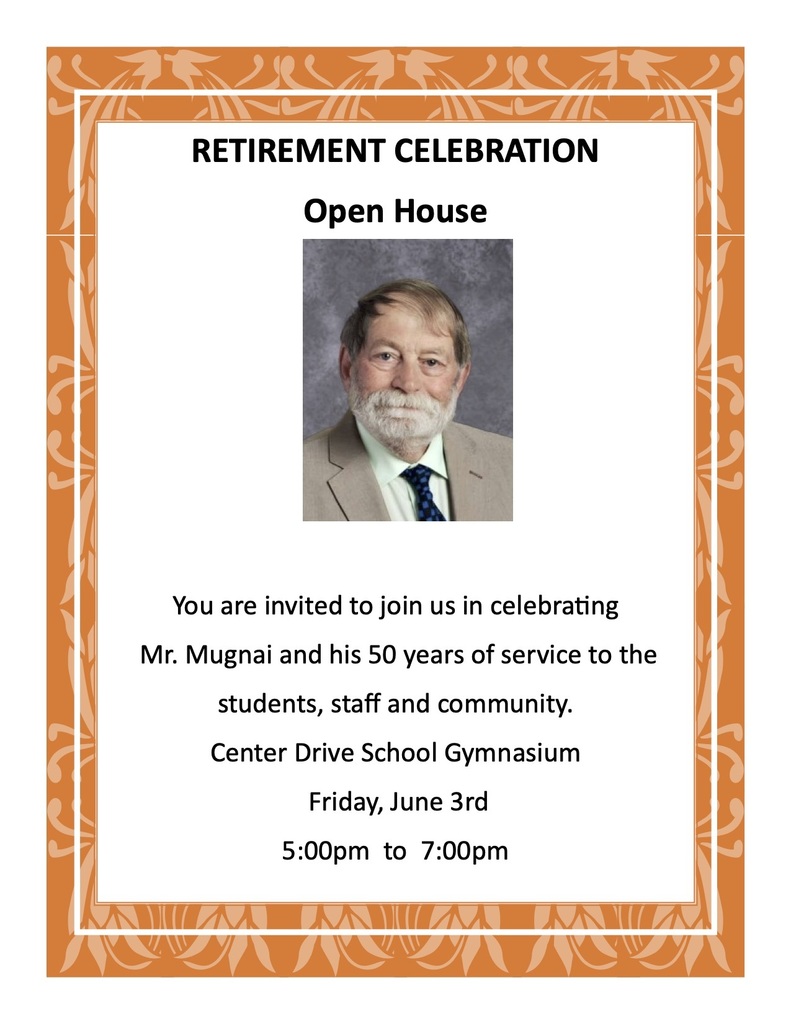 Just a reminder that if you filled out the google survey for the free Covid kits they are available in the office.

Our baseball and softball games on Tuesday, the 24th, will begin at 4:00.

Come enjoy some softball!