Mrs. McDonald shared this today! We have some amazing kids at Center Drive. Remember, if you would like to be added to the meal list, send me an email. We love seeing the faces of our kiddos in the windows.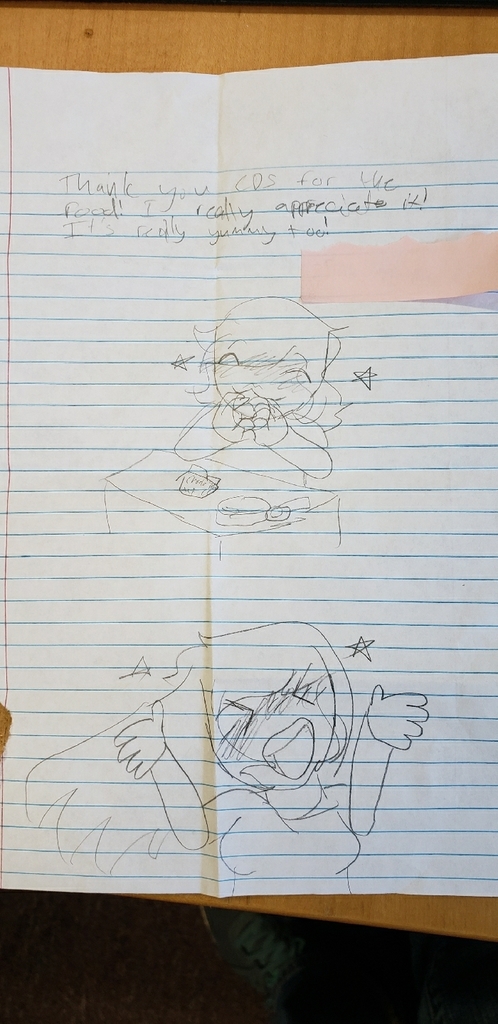 Good Afternoon Teachers worked on report cards Monday. They have been printed and mailed. You should be receiving them soon. Please understand, this was done very quickly. If you see any mistakes, please contact me,
j.marvin@cdsedu.org
and I will make note of it to get fixed at a later date. I am also hearing that some people are not receiving emails. If this is the case, please contact me and I will attempt to get it fixed as soon as possible.

All meals have been delivered. Thank you so much to our kitchen staff, our bus drivers and our volunteers for all of their help! If you did not receive meals, please email the office and/or call and leave a message and we will be sure to get them to you on Friday. If possible, please leave a tote or cooler on your doorstep if you are not going to be home and we will leave them inside.

Just a reminder we are here until 6:00 passing out learning packets. Look for the red "Enter" sign to check in and your packet will be delivered to your car.

We will be delivering breakfasts and lunches during the time students are out of school. Food will be delivered on Mondays, Wednesdays and Fridays beginning March 18th.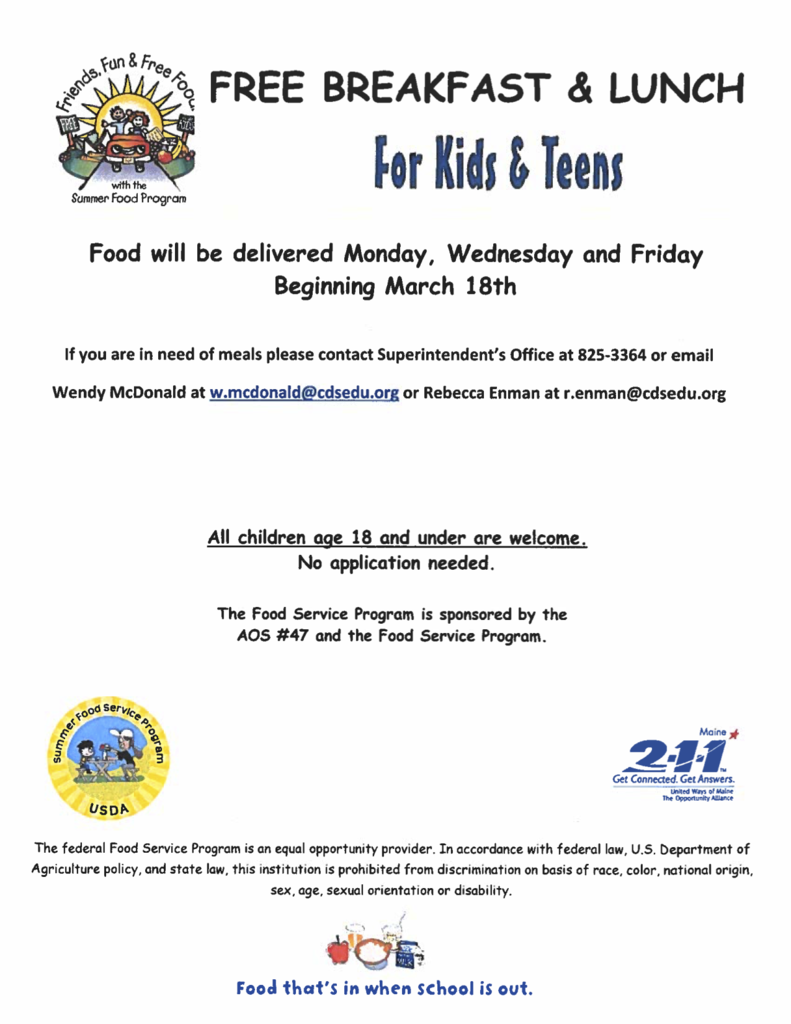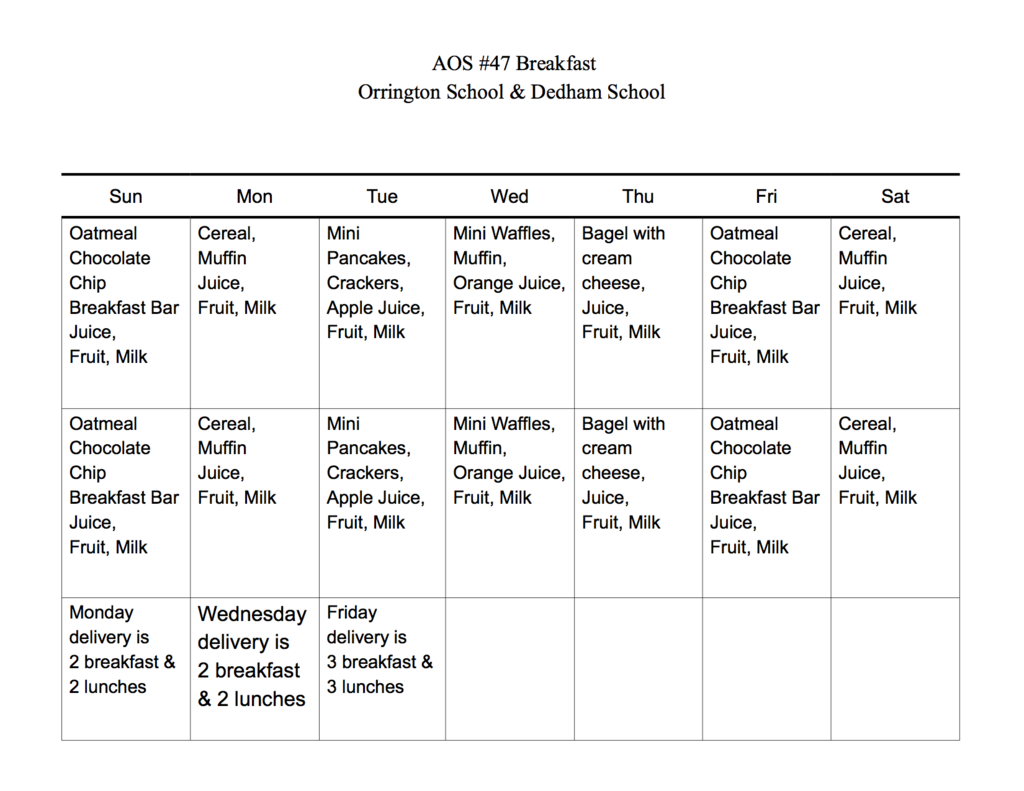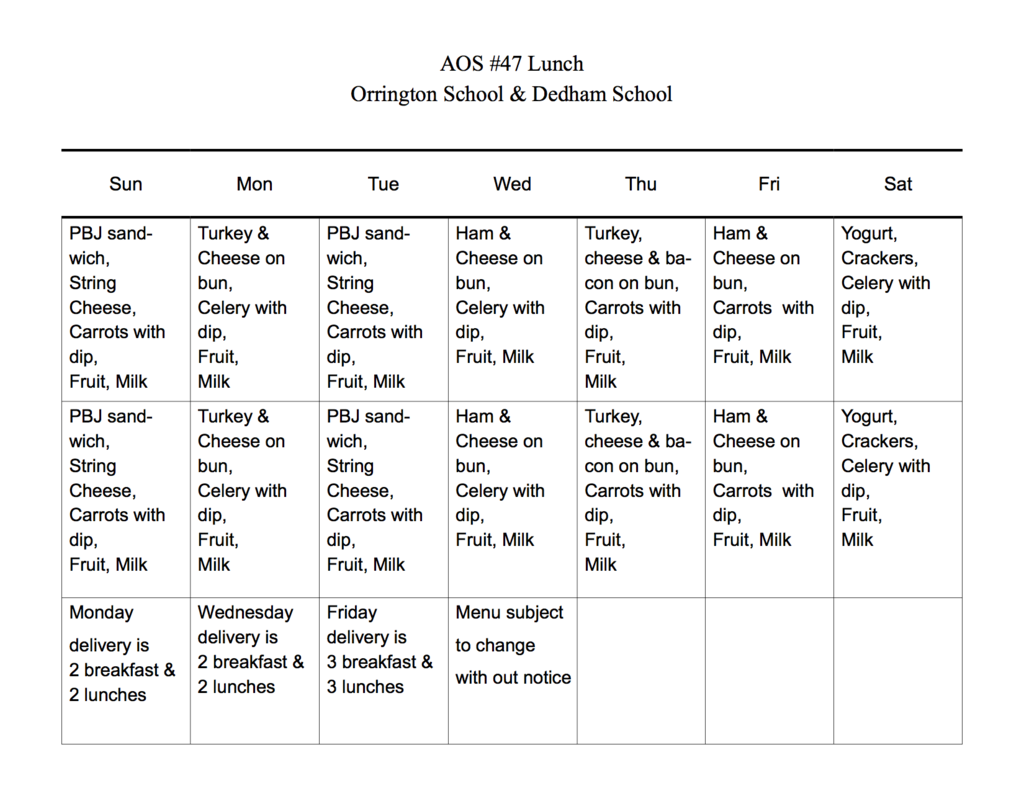 In an effort to slow the spread of COVID-19, AOS 47, The Dedham, Orrington and Airline Community Schools will be closed beginning Monday, March 16 through Friday, March 27th. More detailed information will be forthcoming this weekend.

Please see the message below from our PTG: Due to all of the unanswered questions related to the virus – We've decided it's best to make the decision to postpone the beach ball. A new date will be determined by the PTG as soon as possible. Heidi Sanders – PTG President

A huge thank you to everyone who helped make the Empty Bowl Project a success!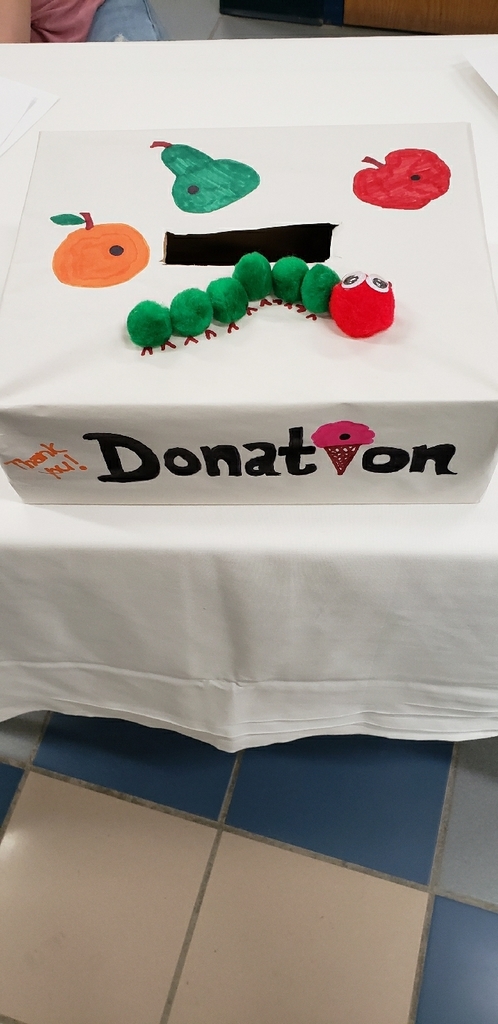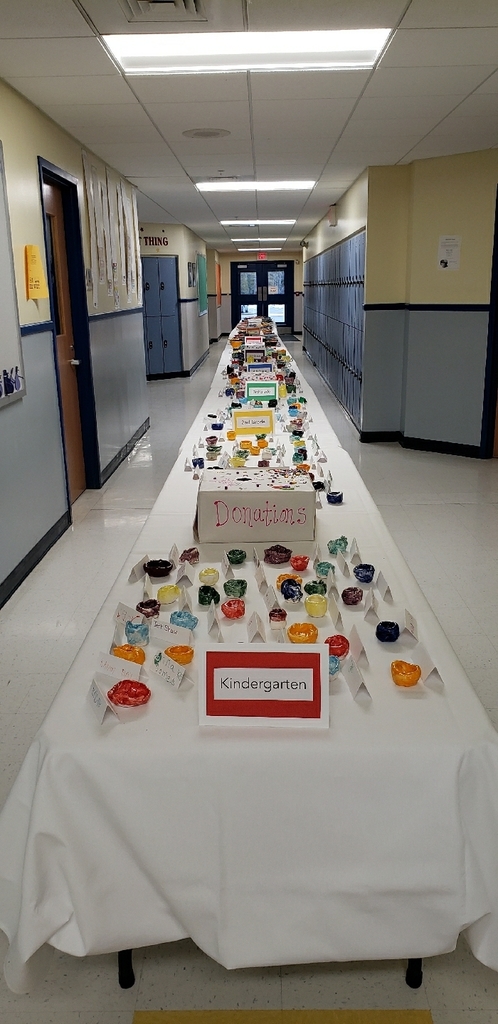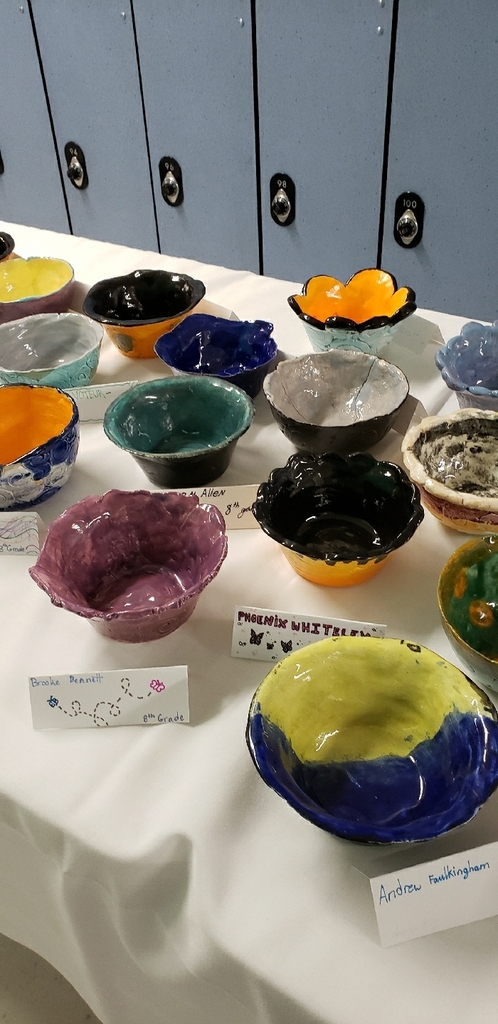 Preparing for the Empty Bowl Project tonight!


What a successful spelling bee season! Eighth grader Jadyn Stuart was our school spelling bee champion with sixth grader Damien Blackie placing 2nd! Damien Blackie did an amazing job representing our school in the Penobscot County Spelling Bee. Our top four school spelling bee spellers, Jadyn Stuart, Damien Blackie, seventh grader Eva Orcutt, and eighth grader Hunter Smith represented Center Drive School during the PVML League Spelling Bee, a team competition, and placed 2nd!! Congratulations to all who participated this year and we look forward to another successful spelling bee season next year!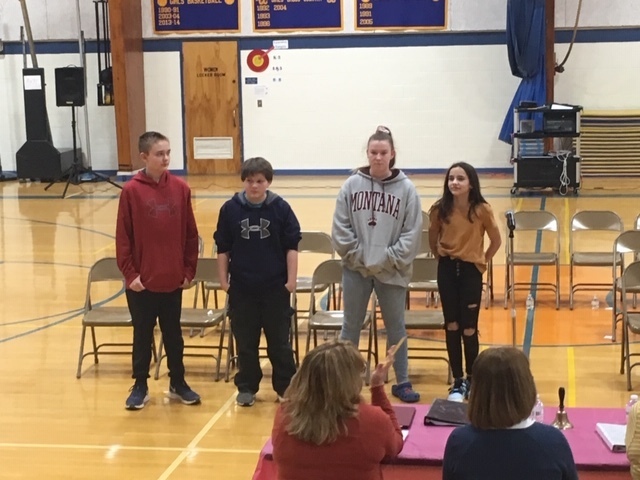 The title one meeting scheduled for tonight has been rescheduled for Monday night at the same time. Hope to see you there!

School is closed today due to the inclement weather.

Please join us for a Title One parent meeting on Thursday, February 27th at 6:00. Light refreshments will be served. This meeting will provide information to parents about title one programming and give parents an opportunity to provide suggestions for program improvement. Snow Date for this meeting will be Monday, March 2nd at 6:00.

Come join us for our "first" Empty Bowl project sponsored by our Art Department and Student Council! See the link for our flyer.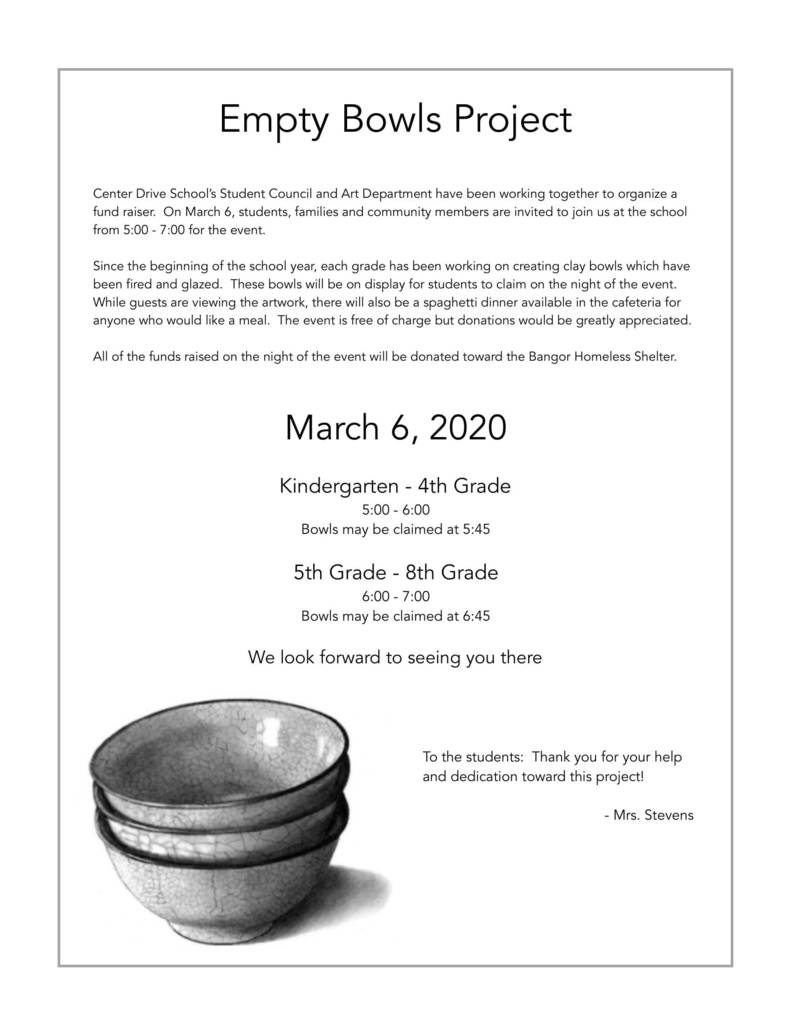 Please help the gifted and talented students gather items and raise money for the Bangor Area Humane society. We will be collecting money and donations until February 28th There are bins in the front of the school for items the shelter needs and donation cans in all of the classrooms. No donation is too small. Thank you for your support! Here is a link for their wish list of items.
https://www.bangorhumane.org/wp-content/uploads/2019/01/wishlist.pdf
Congratulations to the CDS Cheerleaders for winning the Penobscot Valley Middle League Cheering Competition. We are so proud of your accomplishments for the 2019-2020 season!
Congratulations to the Girls "A" team for winning the basketball championship! We are so proud of your 2019-2020 season!
Come cheer our "A" girls basketball team on tonight. They play at Hampden Academy at 8:00. Good luck girls!